About Us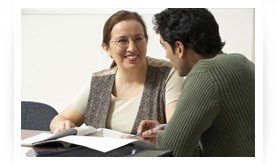 Headquartered in Seattle, Seattle Languages was founded with the aim of linking people to quality language services around the globe.
Seattle Languages provides language instruction in different foreign languages in and around Seattle, serving adults, companies, schools and children. Seattle Languages is a very successful language school in Seattle that believes that learning a foreign language can help forge relationships between people of different cultures. Speaking someone else's language will help to understand that culture and will help to break down barriers that divide people and nations.
Our belief is that our broad language services will help spread education, cultural awareness, global communication, and will create a community which promotes respectful interactions among people of the world.

Our language school is fully accredited by the Northwest Accreditation Commission and meets its rigorous standards, reports progress on an annual basis and participates in an ongoing school improvement process.

Since inception, Seattle Languages has served individuals and companies with other language services such as translation, interpretation, localization, cultural consulting and voice over recordings.
In May 2008, Seattle Languages spun-off its Translation and Interpretation division.
Circle Language Solutions LLC - the new spin-off - is headquartered at Seattle Languages' main offices and will be hosted on this website until further notice.
Circle Language Solutions LLC is proud member of ATA - the American Translators Association.