Conversational Practice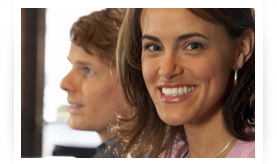 Many students of higher level classes or individuals who are proficient in a foreign language have requested classes in which they can practice their speaking abilities.
Seattle Languages International started to offer discussion group classes for advanced students on a regular basis.
The classes are for all those who feel ready to challenge themselves in a discussion group, where only the target language is spoken, thus increasing their fluency and confidence in using the skills learned in previous classes.
The conversational practice classes are taught by native language teachers who will encourage and guide students' discussions by using different discussion topics, texts, newspaper articles, audio material and other media. The discussion group classes are only 5 weeks long and are limited to 8 students.



Arabic
Chinese
English
French
German
Greek
Italian
Japanese
Korean
Portuguese
Russian
Spanish
Turkish
Vietnamese