Private Instruction
Personalized, highly effective language instruction - Learn it quickly!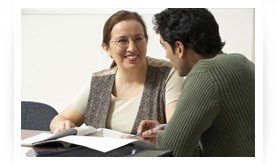 Seattle Languages International offers private lessons to individuals, families and small groups. This provides a one-on-one or small group learning environment at a scheduled time convenient for you. All courses and levels are offered for all ages. Private lessons are very goal-oriented. The student decides what the instructor will teach. Lessons are usually taught in two hour sessions. Exceptions must be discussed with the instructor.
Advantages
Learn at your own pace
Private instruction can achieve the same results 1.5 to 2 times faster compared to a group setting.
Private lessons are geared toward the needs of the student. You only learn what you need to learn.
No more missed classes
Is your life busy? Private instruction will work around your busy schedule.
Flexibility with time and meeting location
Our language instructors will meet you at a convenient time and at a convenient location.
They will even come to your office or house. No more time lost in traffic.

Request Private Instruction
Start here to request private instruction