Schools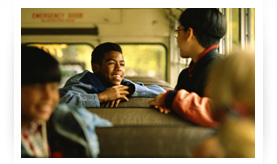 Seattle Languages is fully accredited by the North West Accreditation Commission. If requested, our language school can give credits to most High School students for classes taken at our school. Many High Schools in Washington State will accept course work done at our language school.
Please contact us if you wish to receive more information.
What are the benefits of knowing a foreign language?

According to recent studies, students of foreign languages score statistically higher on standardized tests conducted in English.
Additionally, students of foreign languages develop a broader understanding of their own and other cultures and seem to be more creative and flexible.
Give your children and young adults the ability to meet new challenges!

Our language instruction aims to provide children and young adults the tools to:
- understand our global world
- become citizens of the world
- enhance mutual understanding
- expand intercultural views
- increase economic possibilities
- improve language and global communication skills
These benefits for the child and teen's future are rationales for schools and parents to increasingly request language instruction at their school, either incorporated in the curriculum or offered as an extra-curricular activity such as before and after school language programs.
Seattle Languages offers language instruction in various public and private schools. We serve Preschools, Elementary Schools, Junior High and High Schools not only in Seattle, but also in Auburn, Bellevue, Bothell, Burien, Des Moines, Edmonds, Everett, Federal Way, Issaquah, Kenmore, Kent, Kirkland, Lynnwood, Mercer Island, Mukilteo, Newcastle, Olympia, Redmond, Renton, Shoreline, SeaTac, Tacoma, Tukwila, Woodinville and other cities in Washington State.
Our most requested languages are Spanish, Mandarin Chinese, French, Arabic, Italian, German and Japanese.