Language Programs for Children
Language Education for Children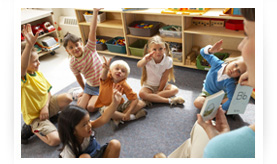 Knowing a second language can expand your child's horizon and open the doors of opportunities in a rapidly evolving global society. Children have the innate ability of acquiring a language. Our language classes for children are designed to take full advantage of this ability.
Give your child the opportunity to develop an enthusiasm for a foreign language.
Seattle Languages International offers language classes specifically tailored to teach children of all ages.
Our programs for children have the same high standards as our well-known adult programs.

What type of language instruction do we offer?


Private Language Tutoring
Private tutoring is tailored to the needs and the schedule of your child.
The private instruction is usually taught at the child's home.
For best results instruction should be taken at least twice per week.

Group Classes - Before & After School Programs
Our Language School has been successfully teaching language programs in various private and public Preschools, Kindergartens, Elementary Schools, Middle Schools and High Schools. The language programs usually meet twice per week as Before School and After School programs. We also offer mid-day classes in order to accommodate the school's needs.
Our language classes are often requested by interested parents and PTA members who understand the importance of offering language classes at their child's school.
Parents who are interested in becoming a link between us and the school/other partents are entitled to a reduced or FREE tuition for their child if a new language program with at least 8 students is offered at their child's school.
Click here to read more about this Special Offer for parents.

Group Classes - See current SCHEDULE
For children and teens who want to take classes at our institute we offer language classes on a recurring basis. Usually these classes are taught to students in the Elementary and Middle School age. Children and teens who do not meet our age requirements can study their language of interest with our private language programs. Our language tutors are experienced and patient.

How do we teach our language classes for children and teenagers?
All of our language classes are taught in the target language and focus initially on verbal communication before shifting to reading and writing.
Depending on the age of the students, our classes incorporate different activities like playing games, singing songs, story-telling and roleplaying.
Our classes are structured, fun and stress free, designed to introduce cultural aspects, build vocabulary and encourage speaking abilities. As all children learn a second language in different ways, we do not have one teaching method. Rather, we keep the door open to different approaches of teaching a foreign language. Our secret is our teachers and dynamism. We have highly skilled teachers with a passion for teaching children and teenagers.

What languages do we teach?
Although the most requested languages are usually Spanish, French, German and Mandarin, Seattle Languages International offers our entire variety of more than 10 languages.

How much does private instruction cost?
Our fees are very competitive and affordable.
Private instruction for children costs the same as for adults.
A minimum of 1 hour of instruction will be billed for each private session.
See our affordable private rates.