Locations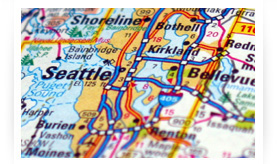 We teach at different locations in the Seattle area.
In order to accommodate our growing number of students and numerous requests for language instruction in different neighborhoods in Seattle, our language school is committed to offering language classes in various locations in and outside of Seattle.
We are planning to expand our language teaching activities soon also to Capitol Hill, Fremont, Bellevue and Tacoma.
Currently Seattle Languages International offers language classes at one location.
Our main office and teaching facility is located in the NE part of Seattle, close to the Burke Gilman Trail, University of Washington, University District, University Village and Children's Hospital.

In 2009 Seattle Languages has started to offer private language instruction in cities such as New York City, Houston, Los Angeles and many more.