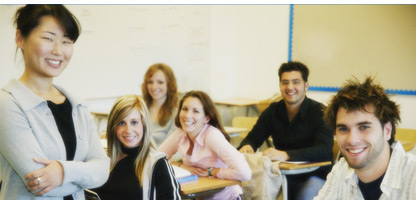 Seattle Languages is a
fully accredited
language institute
specializing in languages such as Spanish, English, Italian, French, German, Mandarin Chinese, Arabic, Russian, Japanese, Vietnamese and many more. We offer our language services in the Seattle, Bellevue, Redmond and Tacoma area.
Serving over 900 students in 2011, we believe we are the fastest growing Language Institute in Seattle and Washington State.

Professional and effective language teachers with extensive training and classroom teaching experience, mostly native speakers, teach a variety of day and evening classes and introduce our students not only to their language but also to cultural aspects of the country or region where the language is spoken.

If you have short term or long term goals, if you want to learn a language for travel or for academic purposes, if you need customized and individual language training or tutoring, if your child, school or company needs language instruction or private lessons we can and will deliver the results that you are looking for.

Our Language Institute serves the community 7 days a week. Weekend language classes allow students with a busy schedule to learn a language in their free time. Our flexible and highly professional team delivers language instruction also off-site, at the convenience of your location and at your home. Circle Language Solutions - a spin off of Seattle Languages International - also provides translation and interpretation in all its languages.

Our Language Institute serves students not only in Seattle but also in and around Auburn, Bellevue, Bothell, Burien, Des Moines, Edmonds, Federal Way, Issaquah, Kenmore, Kent, Kirkland, Lynnwood, Mercer Island, Mukilteo, Newcastle, Olympia, Redmond, Renton, Shoreline, SeaTac, Tacoma, Tukwila, Woodinville and other cities in Washington State.
Our Language School offers more than 20 different foreign languages. Learn the following languages either in group classes or with our affordable private lessons. We offer Ancient Greek, Arabic, Bosnian, Bulgarian, Chinese, Croatian, Dutch, Estonian, French, German, Greek, Hebrew, Hungarian, Hindi, Indonesian, Italian, Japanese, Korean, Latin, Norwegian, Polish, Portuguese, Romanian, Russian, Serbian, Spanish, Swedish, Turkish and Vietnamese.
Seattle Languages also offers a variety of English programs.
Unlike other language schools in Seattle such as Seattle Language Academy, our Language Institute also teaches Medical Spanish classes and discussion group classes for advanced students who want to practice to speak the language.
Learn to speak a foreign language or learn English in Seattle!
Who is seattle languages?
Fully accredited language school

Conveniently located close to Downtown Seattle, Eastside, Wallingford, Fremont and Ballard
Classes 7 days per week:
Daytime, evening and weekend classes available
Serving the community with language instruction

Small, stress free and fun classes
Skilled language instructors
Instruction for adults and
companies
Children's language programs
Emphasis on conversation
Affordable rates
Most textbooks can be rented
Flexible private lessons
Customized language programs also at your location or home
Average class size:
6 students per class
Testimonials
The conversational part of the instruction was the most helpful. My language teacher was really patient. I will definitely take the continuation class.
Kelly, Chinese Student
Bellevue