Corporate Language Instruction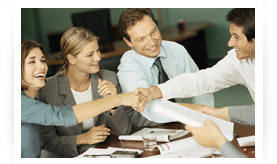 What is today's economic impact of speaking a foreign language?
According to a report of the US Census Bureau nearly one in five U.S. residents regularly speaks a foreign language at home.
While Spanish remains the most prevalent language, Chinese ranks second.
Four of the top ten languages spoken in the U.S. are Asian.
This has obvious implications for the way America's companies and organizations conduct business.

Be competitive - Understand your market - Speak their language!

In order to compete, a company which wants to be successful in markets where other languages are spoken must invest time and money in training its workers in foreign languages.
In today's global markets, where U.S. economic interests reach far beyond its borders, speaking a foreign language and being culturally aware can sometimes make or break business deals.
Being culturally aware and speaking your business partner's language is an enormous advantage you must have.
Our company has been serving various local businesses in the greater Seattle area with their language needs.
We are experienced in working with small, mid-size and large corporations and for example non-profit organizations and can offer you a complete range of language and cultural training solutions.
We are efficient, cost effective and dynamic.
We train you in various languages and help you understand other cultures in order for you to
deal with the world!

Our most requested languages taught in businesses and non for profit organizations in and around Seattle, Bellevue, Redmond and Tacoma are Spanish, Chinese, Brazilian Portuguese, Russian, Arabic, German and Japanese.