Group Classes
Effective, fun and interactive classes with emphasis on conversation!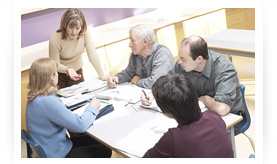 Select our group classes and learn how to speak a foreign language in a small group setting.
Trained, predominantly native language instructors, with extensive classroom teaching experience will help you to immerse fully in the language of your choice.
Group classes are ideal for students of all levels and proficiency who like to be in a small group environment and learn in a fast, fun and interactive way.

Advantages
Small class size - 100% more speaking time than in a group class of 12-15 students
With an average of 6 participants per course our students receive individualized attention from our language instructors.
You can only learn a language if you speak it. Our small class size allows the student to interact twice as much as in a larger group setting of 12 -15 students.
Our language school is not only successful because of our skilled language instructors, but also because with us you learn how to speak the language by speaking it!
Lots of interaction
When learning a language at our language institute students are encouraged by our patient instructors to interact, speak, practice, repeat and ask questions. You will learn a language only if you try to interact with the other students and with your instructor in the target language.
Often students team up and practice their language skills together outside of the language class.
How much interaction can you expect? For sure 100% more than in larger group settings of 12-15 students.
Classes offered 7 days a week
Most of our group classes are offered during the week.
Our language school also teaches a variety of language classes during the weekend, thus allowing the students to find a language class that fits their schedule.
Cost effective group classes - Textbook rental
Our group classes are affordably priced. Textbooks for the most commonly requested language classes are available at our language school and can be rented very inexpensively.
Save on textbooks and use the saved money for a continuation class instead!
Languages
Seattle Languages teaches group classes in Arabic, Chinese, French, German, Italian, Japanese, Korean, Portuguese, Russian, Spanish and Vietnamese on a regular basis.
Other group language classes may be taught if requested by students.